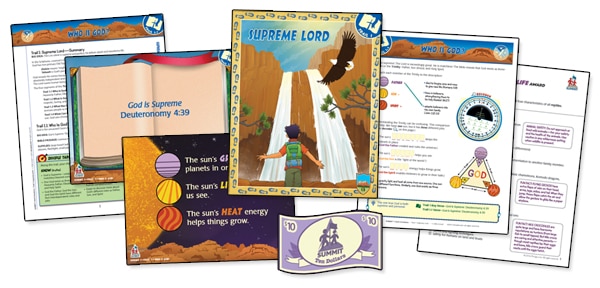 SUMMIT 1: God's Greatness
Other SUMMIT pages: SUMMIT Overview | SUMMIT 1 eBook | SUMMIT 1 Syllabus | SUMMIT 2: God's Word | SUMMIT 3: God's Son | Sample Lessons | Personal Achievement Awards | SUMMIT FAQ | Features & Benefits
SUMMIT is a new, 100% downloadable, adventure-based, Large-Group/Small-Group Bible Curriculum. SUMMIT is fun and easy-to-use. Its 3-year scope and sequence provides a solid Biblical foundation for your children.
SUMMIT is budget-friendly. Choose quarterly bundles at one low price—regardless of class size.
In SUMMIT 1 God's Greatness, children will learn all about God—who He is, what He is like, and what He can do. They will follow trails that lead to Bible knowledge, Godly character, and Christlike Conduct.
• Focuses on God's Word and making life-long disciples.
• Helps your kids grow in their relationship with God and people.
• Equips kids to navigate today's culture and helps them live out their faith. Children learn to live in Christ, live like Christ, and live for Christ.
• God-centered. Bible-based. Doctrinally-sound.
• Family-friendly. Engages your kids, teachers and parents. Builds bridges between your Church and homes. Gets parents involved training their children.
• Simple. Fun. Easy-to-use.
• 3-year curriculum leads children through a deliberate progression of foundational truths, character traits, and practical skills.
• Easy preparation; readily available supplies included in each bundle. Volunteer sensitive. Builds small group relationships.
SUMMIT Guidebook eBook Editions Now Available! Supplement your SUMMIT Large-Group/Small-Group Bible Curriculum with a PDF eBook version of the SUMMIT 1 Discipleship Guidebook. Keep volunteers and parents up-to-date using email, downloads, or by printing lessons. SUMMIT PDF eBooks are identical to the printed Guidebook versions (resized to 8.5 x 11 for best viewing/printing). The entire Guidebook can be viewed on your computer, smartphone or tablet from home, work or church. Learn More About SUMMIT PDF eBook Editions.
Learn More: SUMMIT 1 God's Greatness Quarter A (12-Lesson Bundle)
Learn More: SUMMIT 1 God's Greatness Quarter B (12-Lesson Bundle)
Learn More: SUMMIT 1 God's Greatness Quarter C (12-Lesson Bundle)
Learn More: SUMMIT 1 God's Greatness Quarter D (12-Lesson Bundle)
Learn More: SUMMIT 1 God's Greatness Year 1 (48-Lesson Bundle)