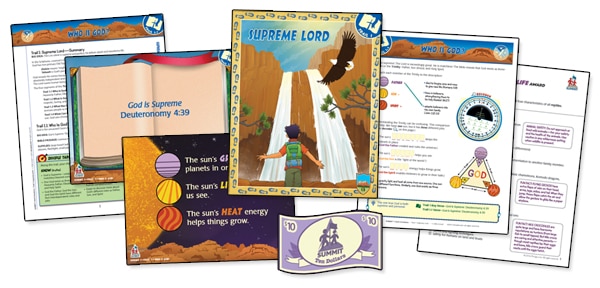 SUMMIT 2: God's Word
Other SUMMIT pages: SUMMIT Overview | SUMMIT 2 eBook | SUMMIT 2 Syllabus | SUMMIT 1: God's Greatness | SUMMIT 3: God's Son | Sample Lessons | Personal Achievement Awards | SUMMIT FAQ | Features & Benefits
SUMMIT is a new, 100% downloadable, adventure-based, Large-Group/Small-Group Bible Curriculum. In SUMMIT 2 God's Word, children will learn all about the Bible—its origin, power, and authority. They will follow trails that lead to Bible knowledge, Godly character, and Christlike conduct. NOTE: Although you can use SUMMIT in any order, we recommend starting with SUMMIT 1: God's Greatness
SUMMIT is fun and easy-to-use. Its 3-year scope and sequence provides a solid Biblical foundation for your children.
SUMMIT is budget-friendly. Choose quarterly bundles at one low price—regardless of class size.
SUMMIT Guidebook eBook Editions Now Available! Supplement your SUMMIT Large-Group/Small-Group Bible Curriculum with a PDF eBook version of the SUMMIT 2 Discipleship Guidebook. Keep volunteers and parents up-to-date using email, downloads, or by printing lessons. SUMMIT PDF eBooks are identical to the printed Guidebook versions (resized to 8.5 x 11 for best viewing/printing). The entire Guidebook can be viewed on your computer, smartphone or tablet from home, work or church. Learn More About SUMMIT PDF eBook Editions.
Learn More: SUMMIT 2 God's Word Quarter A (12-Lesson Bundle)
Learn More: SUMMIT 2 God's Word Quarter B (12-Lesson Bundle)
Learn More: SUMMIT 2 God's Word Quarter C (12-Lesson Bundle)
Learn More: SUMMIT 2 God's Word Quarter D (12-Lesson Bundle)
Learn More: SUMMIT 2 God's Word Year 1 (48-Lesson Bundle)