Why DiscipleLand
Other About Us pages: Our Story | Adult Bible Studies | Vision & Mission | What We Believe | DiscipleLand Features & Benefits | Customer Comments | Church Spotlights | Contact Us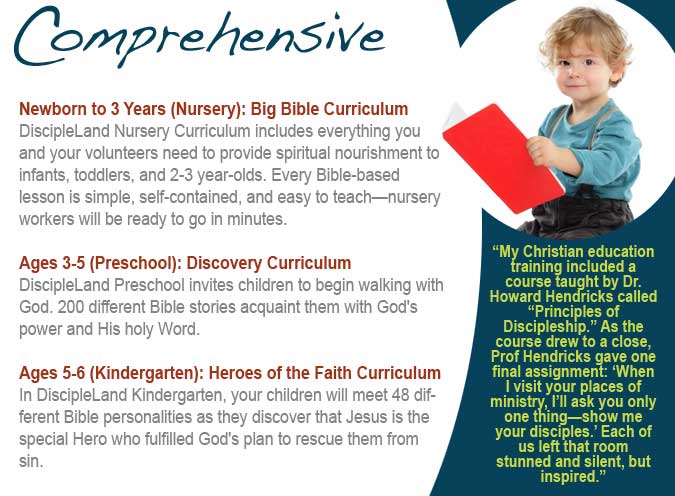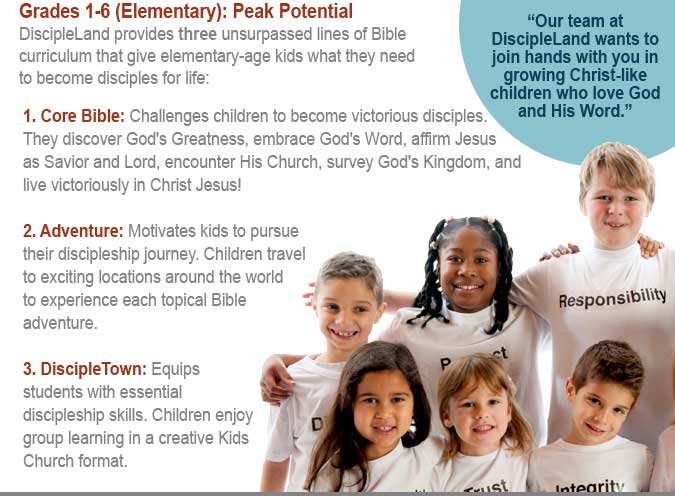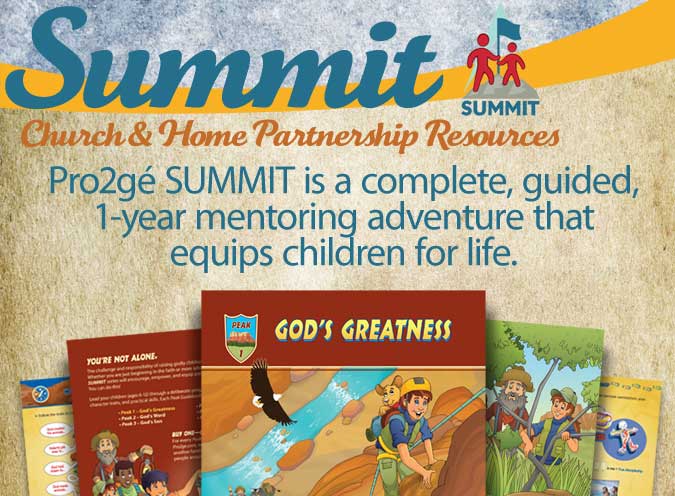 Even more reasons why teachers choose DiscipleLand ...
Engaging: World-class artists, designers, and seasoned children's curriculum writers have combined their talents to provide fresh, dynamic visuals and text.
Unique, Positive Role Models: Three multi-cultural children Dee, Cy, and Paul serve as role-model characters in every lesson. The little dog that accompanies them is named Chip (DEE+CY+PAUL+CHIP = discipleship). Children learn that Jesus loves and saves children all over the world, from every race and nation.
Training: For teachers and parents, DiscipleLand offers free online training resources including webinars, videos, downloadable samples, weekly articles, as well as on-site training.
Economical: DiscipleLand Bible lessons remain the same year after year. That means you can re-use the Teacher Guides and Teaching Pictures again and again. Simply replenish the Student Disciple Guides as needed.
Ministry-minded Customer Service: DiscipleLand curriculum specialists are glad to listen to your unique situation and provide solutions so that you choose the best curriculum for your specific needs. Our customer care team is available to answer questions, assist with your order—or anything else! They are pleased to serve you.
What Others Are Saying
"In twenty years my experienced Sunday School teachers - who have used everything - never connected with a curriculum like they have with DiscipleLand. They love it and their teaching has come alive." —Doug Olson
"I wrote to thank you for taking time to make your website one of the most helpful and relevant ones—especially for parents like me who need all the help we can get to raise our children into the Godly people that they are destined to become. With people like you as our partners, we will surely raise up the next generation of worshipers who will live their lives to worship the one true God, Jesus Christ." —Meshelle Oton
"Thank you for the Bible-based curriculum. The curriculum is very comprehensive for the children to grow in Christ and learn about God. We also would like to thank you for the additional teacher resources. We look forward to placing future orders. God is good." —Evelyn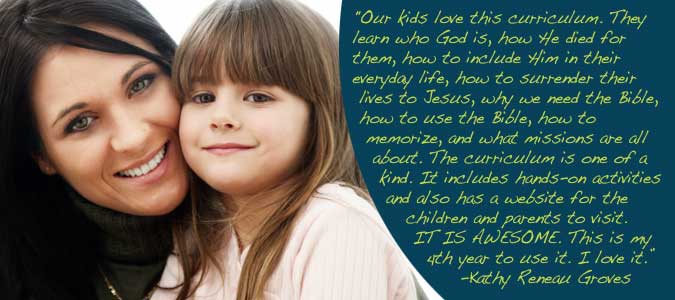 "We have been running the Adventure series for 2 weeks and one of our kids called Arielle has given her life to trust in Christ. Thanks for your curriculum and keep up the good work!" —Richard Bulbring
"I just wanted to let you know that I love your resources. I searched and searched for good curriculum for my church's children's ministries, and was so glad when I finally found yours. I love that it is so biblically based and more than just a morality lesson." —Tara Reichert
"Just wanted to let you know we just finished the first 12 weeks of your curriculum and we love it! The flexibility and options make planning lessons easy! Love the info found in the Teacher Devotional, too - I've learned so much." —Debbie Kobe
"Thank you for taking time to give us great information. I have been the Children's Minister in a very small church plant in Byron, GA for three years and I admit that I was on burnout with trying to recruit volunteers. Today, God used you to spark the fire inside me again. I will press on and now have some ideas on how to motivate the church people to volunteer to work with our kids." —Kathi Kestler
"Our Family has been using DiscipleLand now for more than a decade! Thank you for this great curriculum!" —Linnie Lues
"Thank you for all you do to reach children with the love of Jesus! Blessings!" —Kathy Vincent
"I love this curriculum!!! I just attended a Teacher Training led by Dick Crider. He has such a heart for discipling children. I feel very encouraged to begin the new year." —Michelle Murphy Cook
"Thank you, thank you, thank you! I am SO excited about this wonderful curriculum! We cannot wait to get started! I really appreciate that you sent this information so quickly! DiscipleLand is everything that I have been looking for to study God's Word with our 6-year-old! He has really enjoyed the take home activities that correspond with the weekly lesson in Sunday school (Core Bible curriculum). I will definitely be sharing the DiscipleLand website and sample material with my home Church and homeschool friends! Keep up the GREAT work at DiscipleLand!" —Jennifer Farmer
"Our kids love this curriculum. They learn who God is, how He died for them, how to include Him in their everyday life, how to surrender their lives to Jesus, why we need the Bible, how to use the Bible, how to memorize, and what missions are all about. The curriculum is one of a kind. It includes hands-on activities and also has a website for the children and parents to visit. Teachers can leave messages for their class to make it personal. IT IS AWESOME. This is my 4th year to use it. I love it. You can personalize the lesson to fit your schedule. There are posters the children can use to have devotions at home with their families. There are parent pages to get the family involved. Please check this out for yourself. You will be impressed! This is the BEST!" —Kathy Reneau Groves
"I wanted to tell you how much our family has enjoyed using DiscipleLand curriculum. I have homeschooled my four children for 15 years now and started using DiscipleLand when it first went into print in 1999. I have always been impressed by the content and digging into the principles that have led my kids into a Christian life. I have often looked at other, less expensive devotionals or Bible studies and have felt that the content was watered down. The kids Sunday school teachers are always impressed and comment on how much Bible knowledge my kids have. And are surprised that they dive into the Bible daily to start their school day. I really like how each level grows with the age group, too. Our family will definitely be sticking with DiscipleLand. I really feel like my children are developing a solid foundation to stand on as they gain experiences that will strengthen their relationship with our Heavenly Father. DiscipleLand really equips kids to stand in their Christian faith in today's world." —Pamela Headley
Other About Us pages: Our Story | Adult Bible Studies | Vision & Mission | About Our Curriculum | What We Believe | Contact Us