AAWB: My Awesome Adventure Bible Experience
Product type:
Format:
Dimensions:
Pages:
Lessons:
For Use with Ages: Elementary all grades (ages 6-12)
Equips:
Take your kids on an Adventure they'll never forget! In this specially bundled, 3-month curriculum, My Awesome Adventure, you'll introduce your children to Pastor Karl, a children's pastor who will take them on an exciting hike through the natural wonders of Yosemite National Park! Along with Dee, Cy, Paul, and their devoted dog, Chip, your children will discover the essential "how to's" of discipleship. My Awesome Adventure is a dynamic follow-up resource for new Christians—or an introduction to the faith for kids who have not yet met Jesus.
Developed in collaboration with Kidology, My Awesome Adventure can be used in a variety of settings (Bible club, Sunday school, small groups, VBS, and more!). All 12 lessons include a Bible study and exciting learning activities. Each Teacher Guide also includes a host of digital download media files. Travel with Dee, Cy, Paul, and their dog, Chip, to the Yosemite!
Summer Bundle Sale!
List Price: $142.80
Your Price: $107
You Save: $36 (25%)
Includes:
2 Teacher Guides
10 student Disciple Guides for ages 6-9
10 student Disciple Guides for ages 9-12
BONUS: 20 My New Life Story Booklets (This cool book provides kids with POWER keys to live for Christ!)
BONUS: Digital Teacher Guide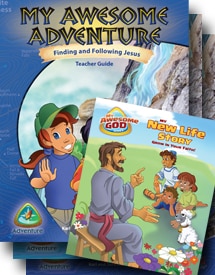 (click for large alternate image)
Price: $107.00
50
Kit