AAW6: My Awesome Adventure- Disciple Guide (6-9)
Product type: Disciple Guide (Student Worksheets)
Format: Physical Book only
Dimensions: 8" x 10.25"
Pages: 48
Lessons: 12
For Use with Ages: Elementary grades 1-3 (ages 6-9)
Equips: 1 Child
Introduce your children to Pastor Karl, a children's pastor who will take them on an exciting hike through the natural wonders of Yosemite National Park! Let the adventure begin…
Along with Dee, Cy, Paul, and their devoted dog, Chip, your children will discover the essential "how to's" of discipleship. My Awesome Adventure is a dynamic follow-up resource for new Christians—or an introduction to the faith for kids who have not yet met Jesus.
Your kids will love Yosemite's scenery, the exciting adventure story, and the creative Bible activities on every page. Each of the 12 lessons may be used for self-study, with a mentor, or in a classroom. Also available for students ages 9-12.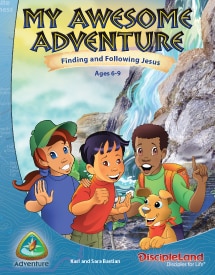 (click for large alternate image)
Price: $5.95
155
InvtPart