DT22: How to Walk in the Spirit (Download)
Product type: Download Kit
Format: Digital Download
Dimensions:
Pages:
Lessons: 4
For Use with Ages: Elementary all grades (ages 6-12)
Equips: 1 Teacher & any number of Children
God gave children an amazing gift when He gave them the Holy Spirit. It has been said, "There is no Holy Spirit Junior." Children have the exact same access to the Holy Spirit's power as adults. During this unit, your kids will discover what it means to be indwelled and filled with the Holy Spirit—how to walk in the Spirit! They will explore four roles of the Holy Spirit that are described in the Bible and come to know the Holy Spirit better. Teach kids what it means to walk in the Spirit and provide practical ways to do so.
How to Walk in the Spirit includes everything you need to teach four Kids Church lessons. This downloadable unit includes Leader Guides, Microsoft PowerPoint™ Templates, and object lesson videos, plus much more! Get ready to experience Kids Church like never before!
Note: DiscipleTown is a downloadable resource. By downloading this product you agree to DiscipleTown's Terms & Conditions
You will receive a link via e-mail to download this product after the order is processed (in 1-2 business days). Your download link will remain active for 21 days from date of delivery.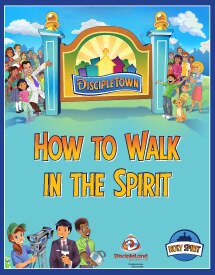 (click for large alternate image)
Price: $44.95
0
NonInvtPart