DT21: How to Be Jesus' Disciple (Download)
Product type: Download Kit
Format: Digital Download
Dimensions:
Pages:
Lessons: 4
For Use with Ages: Elementary all grades (ages 6-12)
Equips: 1 Teacher & any number of Children
We spend a great deal of time in ministry doing a great many wonderful things—reaching, teaching, and training kids for Jesus. However, Jesus gave just one primary command when He returned to heaven: "Go and make disciples." What does it mean to be a disciple of Jesus? Can young followers of Jesus experience victory in their Christian walk? This unit introduces children to five basic principles for having P-O-W-E-R to follow Christ in their faith: Praying from the heart, Obeying the Holy Spirit, Worshiping with the Church, Explaining their faith to others, and Reading their Bibles daily. Yes, children can experience profound P-O-W-E-R in their walk with God when they begin to apply these life-changing disciplines.
How to Be Jesus' Disciple includes everything you need to teach four Kids Church lessons. This downloadable unit includes Leader Guides, Microsoft PowerPoint™ Templates, and object lesson videos, plus much more! Get ready to experience Kids Church like never before!
Note: DiscipleTown is a downloadable resource. By downloading this product you agree to DiscipleTown's Terms & Conditions
You will receive a link via e-mail to download this product after the order is processed (in 1-2 business days). Your download link will remain active for 21 days from date of delivery.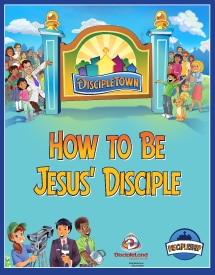 (click for large alternate image)
Price: $44.95
0
NonInvtPart