OCDG: God Leads Us- Disciple Guide (Qtr C)
Product type: Disciple Guide (Student Worksheets)
Format: Physical Nested Worksheets only
Dimensions: 8" x 10.25"
Pages: 48
Lessons: 13
For Use with Ages: Preschool (ages 3-5)
Equips: 1 Child
Join Moses as he leads God's people from captivity in Egypt to freedom in the desert. Your kids will be amazed at God's awesome power as He guides His people.
Bible content: Exodus – Deuteronomy
Thrill your preschoolers with the colorful pictures, stickers, and activity pages that reinforce each Bible story. Includes stickers and take-home page for each of 12 lessons.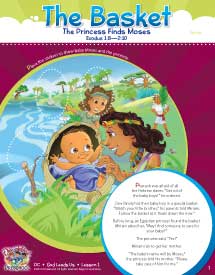 (click for large alternate image)
Price: $5.95
3283
InvtPart