FGBS: Flannelgraph -Large Basic Set
Product type: Flannelgraph
Format: Other
Dimensions:
Pages:
Lessons: 182
For Use with Ages: Preschool to Elementary (ages 3-13)
Equips: 1 Teacher & any number of Children
Give new impact to Old and New Testament stories with the Large Through the Bible in Felt Basic Set, from Betty Lukens. This brightly colored set grabs kids' attention and helps you teach them Bible stories. This set comes ready for you to cut out.
Contains:
600 12" figures and objects: Includes 12 figures of Jesus plus men, women, children, animals, buildings, scenery items, tables, chairs, pyramids, tomb, ark, fiery furnace, and many, many more
Teachers manual with 182 stories in English and 2 detailed pictures showing scene arrangements for each story
Hillside Overlay
This supplemental resource is ideal for use with DiscipleLand Preschool and Kindergarten.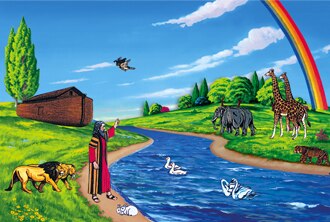 (click for large alternate image)
Price: $179.95
0
NonInvtPart