Follow Bible Heroes: Kindergarten Parenting Toolkit
Product type: Parent Resource
Format: Other
Dimensions:
Pages:
Lessons:
For Use with Ages: Kindergarten (ages 5-6)
Equips: 1 or more Teachers/Parents
Your child can know, love, and serve the Lord...
Raising godly children in today's world is hard work. And we're here to help. The new Raising Godly Children Parenting Toolkits provide essential tools to help you "train up a child in the way he should go" (Proverbs 22:6).
You can nurture your kindergartner along the path to know God intimately, love God passionately, and serve Him selflessly. Follow Bible Heroes-Kindergarten Parenting Toolkit includes everything you need to satisfy the spiritual appetites of young children ages 5 - 6.
This toolkit includes:
Parent Planner—Becoming a Great Parent: how to start out and stay motivated
Follow Old Testament Heroes—24 Bible personalities to respect and emulate
Follow New Testament Heroes—24 early Christians to examine and imitate
The Good News Story—the Gospel outlined in seven clear steps
My New Life Story—Christian essentials for every believer
What Kindergartners Really Need—growth insights & poster for ages 5-6
Bible Heroes Poster—fun inspiration
"Elementary Foundations"—practical advice from the National Center for Biblical Parenting
List Price: $29.95
Your Price: $24.95
You Save: $5.00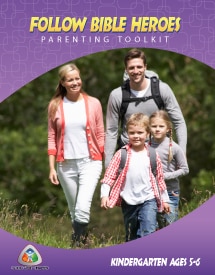 (click for large alternate image)
Price: $24.95
2501
InvtPart