DiscipleLand Parent Tools
Other Free Resource pages: Free Catalog | DiscipleLand Newsletter | Samples & Downloads | Training Tools | Children's Ministry Articles
The resources below provide ideas and tools to help parents learn discipleship techniques for their children at home.
Parent Download Resources

What Kids Really Need (article): A series of 48 mini-articles on values to instill
Good News for Kids: An outline of Jesus' message of love and forgiveness
Bible Reading Plan: from Core Bible 2BDG Why We Got the Bible
Character Traits: from Core Bible 3BDG Amazing Words
Apostles' Creed: from Core Bible 3DDG Triumphant Over All
Truth Facts: from Core Bible/DiscipleZone 3DDG Triumphant Over All
Spiritual Gifts Survey & Score Card: from Core Bible/DiscipleZone 5BDG New Testament Champions
Weekly Planner: from Core Bible/DiscipleZone 5DDG Tommorow's Champions
DiscipleZone.com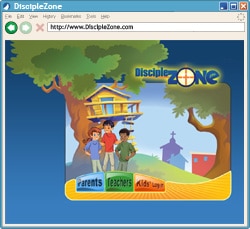 DiscipleZone.com is the "take home" and online portion of DiscipleLand Core Bible Curriculum. It offers an important bridge between your church's DiscipleLand ministry and what takes place in the Christian home. DiscipleZone.com also allows teachers to interact with their students throughout the week with custom messages. At this safe website, kids will find fun activities for each DiscipleLand lesson, growing their understanding of discipleship.
Visit DiscipleZone.com