DiscipleLand Product Catalog
Product type: Other
Format: Physical Book only
Dimensions: 8" x 10.25"
Pages: 80
Lessons:
For Use with Ages:
Equips:
The DiscipleLand Bible curriculum product catalog gives you an introduction to DiscipleLand's philosophy, a catalog of DiscipleLand products, and five sample lessons from our family of resources: Nursery, Preschool, Kindergarten, and Elementary.
This Product Catalog is also available to view online.
FREE!
(ships for free within the USA)
Please limit 1 per customer. If you need more copies, provide your request in the order note field at the end of your order or call Customer Care at 800-484-8483.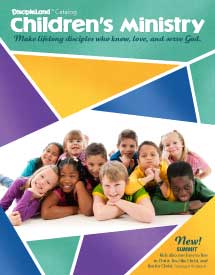 (click for large alternate image)
Price: Free!
3332
InvtPart