SUMMIT 3 God's Son Quarter D (12-Lesson Download)
Product type: Download Kit
Format: Digital Download
Dimensions:
Pages:
Lessons: 12
For Use with Ages: Elementary all grades (ages 6-12)
Equips: 1 Teacher & any number of Children
SUMMIT is a 100% downloadable, adventure-based, God-centered, large-group/small-group Bible curriculum. SUMMIT helps kids grow in their relationship with God and people.

•Focuses on God's Word and making lifelong disciples.
•God-centered. Bible-based. Doctrinally-sound. Family-friendly.
•Engages kids, teachers and parents.
•Integrates church and home - gets parents involved training their children.
•Equips kids to navigate today's culture and helps them live out their faith.
•Simple. Fun. Easy-to-use.
•Great for Children's Church, Sunday school, Midweek, and Urban children's ministry.
•6-year curriculum
•One price for all class sizes. Quarterly and annual bundles for all group sizes and budgets.
SUMMIT 3 Quarter D contains all you need to lead 12 Large-Group/Small-Group lessons. Each quarter is divided into three Trails. Each Trail contains 4 lessons. Contains the following resources:
12 Lesson Guides

-Key Topics: The King, Personal Attitudes, How to Be Jesus' Disciple
-Large-group and small-group activities

12 PowerPoint Slide Sets
How to use SUMMIT Guide
Parent Emails
Memory Verse Cards
Good News for Kids
Personal Achievement Projects (100+ projects)
List Price: $139
Your Price: $119
You Save: $20 (15%)

FREE Sample Lessons: Click Here
Note: SUMMIT Large-Group/Small-Group is a downloadable resource. By downloading this product you agree to
Content Download Terms of Service


You will receive a link via e-mail to download this product after the order is processed (in 1-2 business days). Your download link will remain active for 21 days from date of delivery.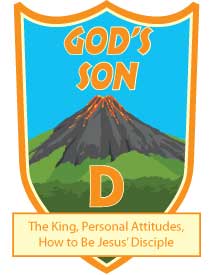 (click for large alternate image)
Price: $119.00
0
NonInvtPart