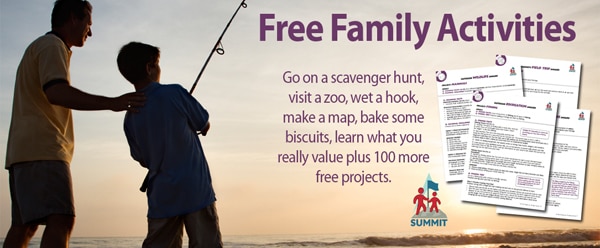 SUMMIT Personal Achievement Awards
Other SUMMIT pages: SUMMIT Overview | SUMMIT 1: God's Greatness | SUMMIT 2: God's Word | SUMMIT 3: God's Son | Sample Lessons | SUMMIT FAQ | Features & Benefits
These Personal Achievement Projects are a bonus add-on to SUMMIT Large-Group/Small-Group. Many different projects and activities await your kids! They'll learn practical skills, discover creative talents, try hands-on activities, and complete service projects. Just think—one of those experiences might lead to a lifelong hobby, a part-time job, or even a meaningful career! Each time they complete six activities, they can earn a new Medal. The order in which they complete the Project Awards is up to them.
Choose a Plan
Go Wide: Rotate between groups—Outdoor, Home, and Community.
Begin with one group—such as Home. To earn the Personal Care Medal, complete six projects from the list of options. When you're done, select a Community category—maybe Field Trips—and tackle six more projects. Then move to the Outdoor group and choose a topic that interests you.
Go Deep: Focus on one group—Outdoor, Home, OR Community.
Perhaps you like Outdoor activities. Begin with one of the basic topics (such as Wildlife) and complete six projects to earn your Wildlife Medal. When you're done, go to Recreation and tackle six more projects. Then go to the intermediate level (Camping or Nature).
Go Random: Move between groups.
For more variety, you may want to engage in projects that interest you most. Complete one project from six different topics to earn a General Medal.

Get Started Today
Choose a group from the following. Check back often - more projects are being added all the time:
Outdoor Projects
,
Home Projects
, or
Community Projects
.