AVL9: My Volcano Adventure- Disciple Guide (ages 9-12)
Product type: Disciple Guide (Student Worksheets)
Format: Physical Book only
Dimensions: 8" x 10.25"
Pages: 48
Lessons: 12
For Use with Ages: Elementary grades 4-6 (ages 9-12)
Equips: 1 Child
Let the adventure begin! Your kids will love the exciting adventure story and creative Bible activities on every page. Each of the 12 lessons may be used for self-study, with a mentor, or in a classroom. Also available for students ages 6-9.
Newly revised and updated!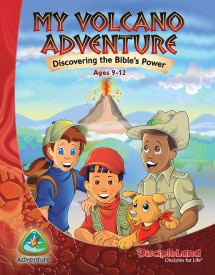 (click for large alternate image)
Price: $5.95
5226
InvtPart