AJUT: My Jungle Adventure- Teacher Guide
Product type: Teacher Guide
Format: Physical Book only
Dimensions: 8" x 10.25"
Pages: 96
Lessons: 13
For Use with Ages: Elementary all grades (ages 6-12)
Equips: 1 Teacher
Introduce your children to Carlos, a jungle expert who will take them on an exciting expedition through a dense, tropical rain forest!
Along with Dee, Cy, Paul, and their devoted dog, Chip, your children will discover the secret of abiding in the Vine (Jesus) and growing the fruit of the Spirit. You'll also find it will motivate your kids to grow as Jesus' disciples. Let the adventure begin…
Appropriate for both ages 6-9 and 9-12.
My Jungle Adventure is newly revised and updated!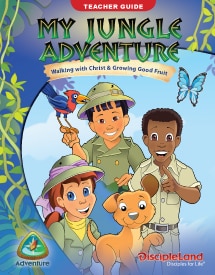 (click for large alternate image)
Price: $11.95
1881
InvtPart