ABST: My Big-Screen Adventure- Teacher Guide
Product type: Teacher Guide
Format: Physical Book only
Dimensions: 8" x 10.25"
Pages: 96
Lessons: 13
For Use with Ages: Elementary all grades (ages 6-12)
Equips: 1 Teacher
Newly Updated and Revised! Become world travelers with Dee, Cy, Paul, and Pastor Shepherd as they show the popular movie, the JESUS film, to the people of different countries. Your children will learn about Jesus' miracles, message, and why He came to earth. They will also discover how different people respond when they see and hear about Jesus for the first time!
In all 12 lessons, your kids ages 6-12 will view segments of the film, participate in creative learning activities, travel to a country where the JESUS film has been viewed, and read from your Bible about Jesus' amazing life!
BONUS: Includes a DVD of The Story of Jesus for Children tailored to each lesson!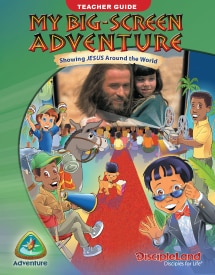 (click for large alternate image)
Price: $15.95
1823
InvtPart