Summit 2 Guidebook: God's Word
Product type: Discipleship Resource
Format: Physical Book only
Dimensions: 6.25 x 7.75
Pages: 240
Lessons: 48
For Use with Ages: Elementary all grades (ages 6-12)
Equips: One adult and one child
SUMMIT 2: God's Word is a complete, self-guided, 1-year mentoring adventure that equips kids to become disciples for life. Every lesson in the Guidebook stirs the imagination and will help kids know, love, and serve God. Lead your children ages 6-12 through a deliberate progression of foundational truths, character traits, and practical skills. Great for parents, grandparents, caregivers, homeschoolers, Sunday school/weekend programs, children's church, kids' club, and midweek programs. Free online resources reinforce the program: Bible memory plan, 100+ projects, hands-on activities, and achievement award medals.
Today's families and teachers are busier than ever—but in just 20-25 minutes once each week you can provide spiritual nourishment as well as strengthen the relational bond with your kids.
The challenge and responsibility of raising godly children can feel overwhelming. Whether you are just beginning in the faith or more advanced in spiritual training, the SUMMIT Guidebook series will encourage, empower, and equip you to disciple your kids.
Learn more about SUMMIT here.
NOTE: While SUMMIT Guidebooks are self-guided training tools, they are not a full children's ministry curriculum. SUMMIT Large-Group/Small-Group Bible Curriculum stands ready to meet that need!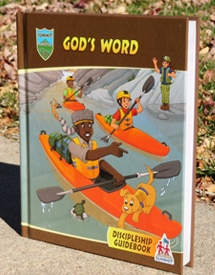 (click for large alternate image)
| | |
| --- | --- |
| | |
| 1 – 5 | $14.95 |
| 6 – 15 | $11.95 |
| 16 – 30 | $10.45 |
| 31 – 50 | $8.95 |
| 51 + | $7.50 |
2447
InvtPart