RGCSB-BAS: SUMMIT 1 Basic Awards Bundle
Product type: Parent Resource
Format: Other
Dimensions:
Pages:
Lessons: 48
For Use with Ages: Elementary all grades (ages 6-12)
Equips: One adult and one child
Buy together and save! The SUMMIT 1 Basic Awards Bundle includes one copy of the SUMMIT 1 Guidebook, one SUMMIT 1 Awards Packet, and one SUMMIT 1 Basic Project Packet.
Summit 1 GuideBook: God's Greatness guides kids through the following topics:
Bible Knowledge—Supreme Lord, Faith Journey, Family Plan, Creation Science
Christian Character—Virtues of the Soul, Cardinal Virtues, Social Virtues, Personal Virtues
Faithful Conduct—How to Worship, How to Pray, How to Love God, How to Follow God's Plan
The SUMMIT 1 Awards Packet is the perfect way to reward your child's accomplishments as he or she completes the SUMMIT 1 Guidebook! Each packet contains:
1 SUMMIT 1 Badge (patch)
12 Trail Marker Tokens
4 Memory Verse Star Pins
1 Summit Flag Lapel Pin
The SUMMIT Project Awards Basic Packet contains six golden lapel pins to award your child for completing online projects in the six Basic topics.
Your child will love these high quality awards and will work hard to earn them. For a guide to use these awards, click here.
NOTE: Choose this bundle if your child will be completing Achievement Projects topic-by-topic.
List Price: $51.85
Price: $39.95
You Save: $11.90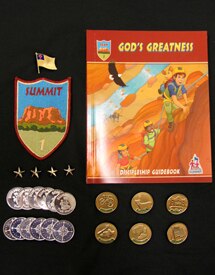 (click for large alternate image)
Price: $39.95
11
Kit