RGCSA-1: SUMMIT 1 Awards Packet
Product type: Parent Resource
Format: Other
Dimensions:
Pages:
Lessons:
For Use with Ages: Elementary all grades (ages 6-12)
Equips: 1 Child
The SUMMIT 1 Awards Packet is the perfect way to reward your child's accomplishments as he or she completes the SUMMIT 1 Guidebook! Each packet contains:
1 SUMMIT 1 Badge (patch)
12 Trail Marker Tokens
4 Memory Verse Star Pins
1 Summit Flag Lapel Pin
Your child will love these high quality achievement awards and will work hard to earn them. For a guide to use these awards, click here.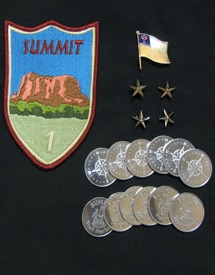 (click for large alternate image)
Price: $16.95
5
InvtPart