RGCA: ABC's of Family Discipleship- 10-pack
Product type: Other
Format: Physical Book only
Dimensions: 5.5" x 8.5"
Pages: 16
Lessons:
For Use with Ages: Adults
Equips: 1 Adult
When Christian parents bring a son or daughter into the world, they immediately realize that this special blessing from the Lord is also a huge responsibility. God directs dads and moms to teach their children about Him (Deuteronomy 6:6-9), but most parents need a great deal of encouragement to accomplish this.
These ABC's of Family Discipleship are designed to help parents guide their children to know, love, and serve God as they grow in their own relationship with Him. Each mini-motivator will assist dads and moms to prepare their children for the journey ahead!
NOTE:These booklets are sold in sets of ten.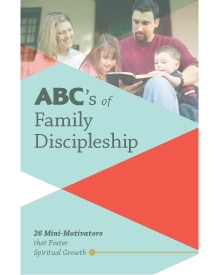 (click for large alternate image)
| | |
| --- | --- |
| | |
| 1 – 4 | $6.75 |
| 5 – 9 | $6.35 |
| 10 – 24 | $6.00 |
| 25 – 49 | $5.60 |
| 50 + | $5.25 |
14
InvtPart