RGC9: What Fifth/Sixth Graders Really Need- 10-pack
Product type: Other
Format: Other
Dimensions: 16" x 20"
Pages: 2
Lessons:
For Use with Ages: Elementary (ages 6-9)
Equips: 1 or more Teachers/Parents
What Fifth/Sixth Graders Really Need equips parents to invest in their preteen's spiritual lives. Parents are encouraged to be aware of the challenges their growing child is facing and to direct them to God as their Hero and role model. Motivate and equip your Dads and Moms to foster their child's spiritual growth during this year.
The new series Raising Godly Children assists parents and teachers in the relational aspects of making disciples. These age-specific resources challenge parents themselves to walk with the Lord and to provide the spiritual training that their children really need. Each guide opens into a beautiful poster packed with practical, proven ways to nurture kids.
NOTE:These posters are sold in sets of ten.
To download a full-sized sample to review, click here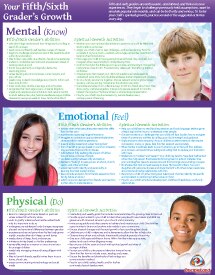 (click for large alternate image)
| | |
| --- | --- |
| | |
| 1 – 4 | $9.95 |
| 5 – 9 | $7.96 |
| 10 – 24 | $6.97 |
| 25 – 49 | $5.97 |
| 50 + | $4.98 |
772
InvtPart