DT24: How to Walk in Victory (Download)
Product type: Download Kit
Format: Digital Download
Dimensions:
Pages:
Lessons: 4
For Use with Ages: Elementary all grades (ages 6-12)
Equips: 1 Teacher & any number of Children
What is our goal for our children? That they come to know Jesus as their Savior? Of course. But what then? If salvation were our only goal, children might as well go straight to heaven upon accepting Christ. But the reality is, they have an entire life ahead of them. Children, just like adults, are living in a spiritual battlefield and need to be equipped to live victoriously. Too often we tend to focus on helping children know how to behave—as if a child's behavior depended entirely on human effort. What children need is to be trained in how to claim spiritual victory in Christ Jesus.
How to Walk in Victory includes everything you need to teach four Kids Church lessons. This downloadable unit includes Leader Guides, Microsoft PowerPoint™ Templates, and object lesson videos, plus much more! Get ready to experience Kids Church like never before!
Note: DiscipleTown is a downloadable resource. By downloading this product you agree to DiscipleTown's Terms & Conditions
You will receive a link via e-mail to download this product after the order is processed (in 1-2 business days). Your download link will remain active for 21 days from date of delivery.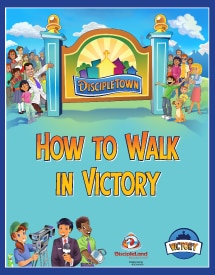 (click for large alternate image)
Price: $44.95
0
NonInvtPart