DT23: How to Earn Eternal Rewards (Download)
Product type: Download Kit
Format: Digital Download
Dimensions:
Pages:
Lessons: 4
For Use with Ages: Elementary all grades (ages 6-12)
Equips: 1 Teacher & any number of Children
God loves to reward His children for their hard work, obedience, and service on earth—not only with blessings in this life, but with rewards in the life to come. The Bible teaches that every attitude, thought, and action has both earthly and eternal consequences. For believers, bad attitudes, negative thoughts, and selfish actions will burn up at Christ's judgment seat. But God will reward good attitudes, positive thoughts, and selfless actions, generously multiplying their value in heaven. This is both assuring as we know that we'll be forgiven for our failures, and also motivating as we understand that we'll be rewarded for the good things we do.
How to Earn Eternal Rewards includes everything you need to teach four Kids Church lessons. This downloadable unit includes Leader Guides, Microsoft PowerPoint™ Templates, and object lesson videos, plus much more! Get ready to experience Kids Church like never before!
Note: DiscipleTown is a downloadable resource. By downloading this product you agree to DiscipleTown's Terms & Conditions
You will receive a link via e-mail to download this product after the order is processed (in 1-2 business days). Your download link will remain active for 21 days from date of delivery.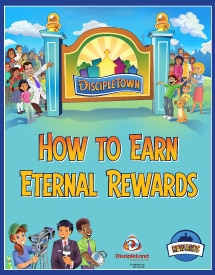 (click for large alternate image)
Price: $44.95
0
NonInvtPart