DT15: How to Show Respect (Download)
Product type: Download Kit
Format: Digital Download
Dimensions:
Pages:
Lessons: 4
For Use with Ages: Elementary all grades (ages 6-12)
Equips: 1 Teacher & any number of Children
In this unit, your children will learn basic skills to help them show respect to God, themselves, their families, and others. They will realize that respect begins as an attitude. If we develop a respectful attitude, respectful behavior will soon follow. We can help children become more respectful by helping them accept who God made them to be and by encouraging them to improve their attitudes toward other people.
How to Show Respect includes everything you need to teach four Kids Church lessons. This downloadable unit includes Leader Guides, Microsoft PowerPoint™ Templates, and object lesson videos, plus much more! Get ready to experience Kids Church like never before!
Note: DiscipleTown is a downloadable resource. By downloading this product you agree to DiscipleTown's Terms & Conditions
You will receive a link via e-mail to download this product after the order is processed (in 1-2 business days). Your download link will remain active for 21 days from date of delivery.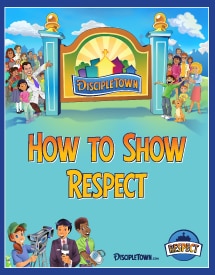 (click for large alternate image)
Price: $44.95
0
NonInvtPart