DTB7: All About Honoring God (DiscipleTown 3-Pack)
Product type:
Format:
Dimensions:
Pages:
Lessons:
For Use with Ages:
Equips:
All About Honoring God Collection features 3 months of DiscipleTown curriculum for just $99.95. This special release includes 3 popular teaching units arranged around the theme of honoring the Lord with our actions.
 
List Price: $134.85
Your Price: $99.95
You Save: $34.90 (25%)
• How to Show Respect
In this unit, your children will learn basic skills to help them show respect to God, themselves, their families, and others. They will realize that respect begins as an attitude. If we develop a respectful attitude, respectful behavior will soon follow. We can help children become more respectful by helping them accept who God made them to be and by encouraging them to improve their attitudes toward other people.




• How to Love God
When Jesus was asked to identify God's greatest commandment, He answered, "Love the Lord your God with all your heart and with all your soul and with all your mind and with all your strength" (Mark 12:30). But what does this truly mean? What does it look like? Too often we give children "pie-in-the-sky" platitudes without supplying practical steps they can apply in everyday life. This unit will help your children know what it means to love God with actions—not just words. Your kids will discover how to love God with all their heart, soul, mind, and strength. They will also learn that loving God involves loving other people, too.




• How to Earn Eternal Rewards
God loves to reward His children for their hard work, obedience, and service on earth—not only with blessings in this life, but with rewards in the life to come. The Bible teaches that every attitude, thought, and action has both earthly and eternal consequences. For believers, bad attitudes, negative thoughts, and selfish actions will burn up at Christ's judgment seat. But God will reward good attitudes, positive thoughts, and selfless actions, generously multiplying their value in heaven. This is both assuring as we know that we'll be forgiven for our failures, and also motivating as we understand that we'll be rewarded for the good things we do.
Free Bonus: The Kids Church Cookbook #1
The Kids Church Cookbook cooks up Karl Bastian's secrets for what it takes to be a Chef of the Word of God -- and he should know, having served up over 1,000 Kids Church services! This resource is loaded with insightful instruction and practical training that will help both beginners and veterans.
Free Bonus: Attack Your Adversary - Square Off Against Biblical Illiteracy
Before facing Goliath, David carefully selected five smooth stones. It is time for churches to address a giant problem—Biblical illiteracy. Pastors, introduce these seven foundation stones into your ministry and watch the enemy retreat!
Note: DiscipleTown is a downloadable resource. By downloading this product you agree to
Content Download Terms of Service


You will receive a link via e-mail to download this product after the order is processed (in 1-2 business days). Your download link will remain active for 21 days from date of delivery.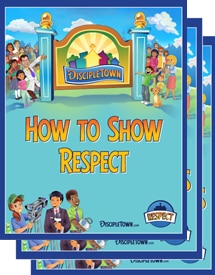 (click for large alternate image)
Price: $99.95
0
Kit