AVLB: My Volcano Adventure Bible Experience
Product type:
Format:
Dimensions:
Pages:
Lessons:
For Use with Ages: Elementary all grades (ages 6-12)
Equips:
In this specially bundled, 3-month curriculum, your kids will discover how we got the Bible—and why. They'll learn about the Bible's authority, its message, and purpose. The adventure reaches a peak when someone gets trapped in a flow of molten lava and learns first-hand about the amazing power of God's Word!

Developed in collaboration with Wycliffe Bible Translators, My Volcano Adventure can be used in a variety of settings (Bible club, Sunday school, small groups, VBS, and more!). All 12 lessons include a Bible study and exciting learning activities. Each Teacher Guide also includes a host of digital download media files. Travel with Dee, Cy, Paul, and their dog, Chip, to the Philippines!


Summer Bundle Sale!
List Price: $122.90
Your Price: $92
You Save: $31 (25%)
Includes:




2 Teacher Guides


10 student Disciple Guides for ages 6-9


10 student Disciple Guides for ages 9-12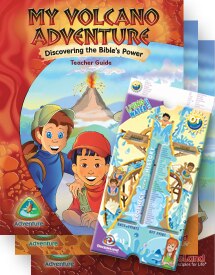 (click for large alternate image)
Price: $92.00
462
Kit