Church Spotlight 9
Hoffmantown Church in Albuquerque, New Mexico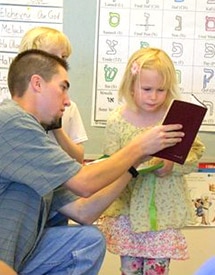 Hoffmantown Church is a Southern Baptist church in Albuquerque, NM. They minister to about 300 kids through their Sunday school, Kids' church, and Midweek programs. Patrick Newbill, the children's pastor, knows the value of communicating his vision to his teachers.
DiscipleLand (DL): Patrick, tell us about yourself and your ministry.
Patrick: I started out as a lay leader in children's ministry in 1996. We started a children's church and reorganized our Awana program and saw great things happening. My joy came from seeing children being saved and then watching them become disciples AS KIDS. I ended up at Southeastern Seminary in 2001 and a "part-time / 70 hours a week" children's pastor at a church plant. We ran twelve kids on Sunday nights when I started. I got to practice on them...I'm pretty sure most of them are still in counseling. :) Anyhow, we ended up with around 165 kids on Sunday nights five years later. I was introduced to DiscipleLand by a Seminary professor, and I introduced it to my teachers...THEY LOVED IT! God then moved me back to Chattanooga, and I introduced DiscipleLand there...Sunday school attendance rose and we began having to split classes.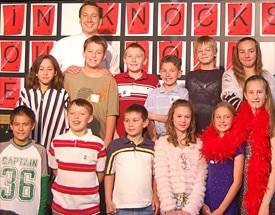 I've now been at Hoffmantown Church in Albuquerque for one year. [I've learned that] man-determined values get shaken and often fail in stormy times, but when a child is taught to see life based on the sovereignty of God and the authority of Scripture...they can biblically deal with life's situations. The teachers believe our new curriculum, DiscipleLand, is engaging the kids, is effective at making disciples, and is actually biblically sound.
DL: How is DiscipleLand affecting the students? How are they responding?
Patrick: The kids are engaged and learning (two great things that go great together!).
DL: How about your teachers?
Patrick: We shared the vision of DiscipleLand in our Kidz Ministry Newsletter and the [church] body caught the vision. They don't see children's ministry as "childcare" but rather a place to build disciples. We added four new classrooms at promotion Sunday and had an "extra" teacher that we had to figure out where to put! The teachers are stoked with abundance of biblical teaching material and the engagement factor that DiscipleLand has in their teacher material each week.
DL: What creative ways you are using DiscipleLand?
Patrick: Some of our Preschool classrooms will review all the Bible story pictures at the end of the quarter...it's so cool to see three and four year olds be able to tell what each picture is about.We also use DiscipleLand in our 4-day preschool. The kids love it!
DL: Anything else you'd like to add?
Patrick: God picked me up out of a sad/tough situation and gave me the desire of my heart...to work with Pastor Wayne Barber [Hoffmantown's senior pastor]. It is so neat to see children give a central role to the Word of God in their lives and watching them grasp its authoritative, instructive, and grace message. Thanks DiscipleLand!
Learn more about Hoffmantown Church's ministry at hoffmantownkids.com