Church Spotlight 5
Ebenezer Mennonite Church in Bluffton, Ohio
Ebenezer Mennonite Church serves God in Bluffton, Ohio, and has a unique "tie" to DiscipleLand.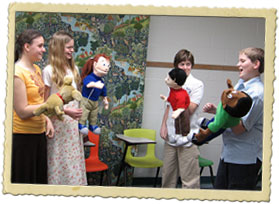 The Church ministers to more than 70 kids through its Sunday school and Wednesday night programs.
DiscipleLand: How did your church find DiscipleLand?
Ebenezer Mennonite Church (EMC): Our Pastor and the Christian Education Committee felt a need for a change in our Sunday school curriculum, wanting something that was Biblically accurate, age appropriate, and would teach our children all the Bible. The CE Chairperson was looking for curriculum on the Internet and ran across the DiscipleLand website. She downloaded sample lessons, and liking what she saw, ordered samples for the committee to review.
DL: Why did you choose DiscipleLand?
EMC: After reviewing countless curriculums, the Christian Education Committee and our Pastor determined that DiscipleLand was exactly what we were looking for.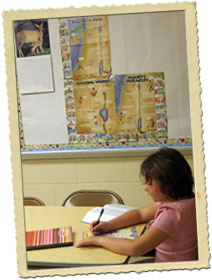 It taught sound Biblical Doctrine and was age appropriate. Some of us on the CE Committee noticed the signature of Mark Steiner in the letter to teachers inside the leader's book. One of our former Associate Pastor's and CE Director in the 1980's was Mark Steiner. Could this be the same Mark Steiner? After a phone call to DiscipleLand, we knew this was "our" Mark Steiner and we were really excited. We knew DiscipleLand was indeed a curriculum we could rely on, and we have not been disappointed. [Editor's note: Mark Steiner is the CEO and founder of DiscipleLand.]
DL: How is DiscipleLand affecting your students?
EMC: They enjoy the layout, colorful pictures, various activities, and Bible related topics. They seem to have more understanding of the questions being asked and have more confidence to take the risk and answer the question.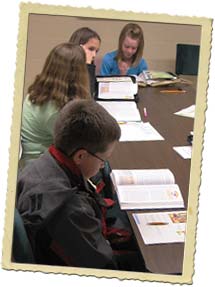 DL: How is DiscipleLand affecting your teachers?
EMC: The teachers feel that it is a sound Bible based curriculum and are thrilled with the variety of lessons, topics, and suggestions given to them. Some teachers' comments:
So many extra lesson choices to choose from.
The children are learning a lot and being given a good Scriptural foundation.
Very colorful teaching pictures.
The 1st grade teacher loves the Bible cards that go with each lesson.
The 5th grade teachers appreciate the good overview of the Old and New Testament.
DL: What other exciting things are happening in your classrooms?
EMC: Teachers are finding related coloring pages that go along with the lesson to use as the children are arriving. Last year, the 4th Grade class played a fill-in-the-blank game and used it to review the lesson. The 3rd grade class has a prayer notebook. Each Sunday, they list people that need prayer and then during the week, it reminds them to pray for these people.