Church Spotlight 4
Christ Community Church in Roseville, Michigan
Pastor Emily Snyder is the Children's Pastor of Christ Community Church in Roseville, Michigan. Here she talks of finding DiscipleLand for her midweek program, including some of the challenges her teachers had adjusting to a new curriculum.
Our mission statement at Christ Community Church is to effectively impact the community by making disciples of Christ. This is reflected in all our ministries, including Kaleidoscope Kids. DiscipleLand is the perfect fit for our church's purpose and format.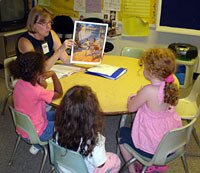 About 3 years ago, we were going through a transition period, where the Children's Director was stepping down and I was stepping in as the Children's Pastor. We were looking for a new curriculum to use in our midweek classes. We had literally tried every curriculum available. Some of the complaints our teachers had were repeating lessons, kids being too familiar with the stories, and not enough material from which to plan. My complaint was the continual cost. In our search, we ordered the demo pack from DiscipleLand.
We were first drawn to DiscipleLand because of it was so colorful and visually appealing. I sat down with the curriculum for three months and studied every detail of it. I didn't want to start another curriculum that we would find a problem with two months later. However, I could not find one thing I didn't like about DiscipleLand! The first thing I found is how flexible DiscipleLand is. I was able to adapt it to fit our midweek format. The teachers love how lessons never repeat. They also feel a part of something bigger than being an isolated class. We were also able to adapt it, because the material is undated. The best part to me is because it is undated; I only have to reorder the student pages. Talk about savings!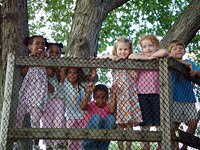 During that first year, I fell in love with DiscipleLand. Every new quarter, I would read over the material and find new aspects that I liked. I especially loved that kids were learning more about Bible times and doing in-depth Bible studies. The kids that attend our midweek program are regular attendees and know the basic Bible stories. DiscipleLand allows them to use what they know and gain a deeper understanding of the Bible.
Some of the teachers did have a hard time getting used to using DiscipleLand. It does require more from the teachers because they're not just reading typical Bible stories. It requires them to study their own Bibles and teach things they never learned as kids. At one point, I was having some resistance from teachers, and I called Dick Crider for some advice. After talking to him, I knew I was sticking with DiscipleLand. Everything he said confirmed our church mission statement. We had Dick come out and do a training seminar with the teachers. He explained discipleship to them and how to effectively disciple children. Everyone was encouraged and motivated to put what they learned into practice.
In September, we are starting our two-year DiscipleLand rotation for the second time. We are especially excited because of the updated material. It only makes DiscipleLand better! I am so happy to have not only found an effective curriculum, but I have found a network of people that share my passion for making disciples of children! Thank you DiscipleLand!