Church Spotlight 11
Trinity Presbyterian Church in Clovis, CA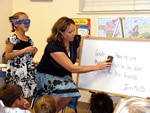 Deanna Allen has been the Director of Children's Ministries at Trinity for twenty months. She is the single mother of three children ages 15, 12 and 8. She has a BA degree in Marketing/Management from Fresno Pacific University and has been a Creative Memories Consultant for eleven years. It has been a great training ground for this ministry!
"I'm not sure how I ended up in Children's Ministry! Honestly, being in this position is an amazing testimony to God's grace and sovereignty. Even a few years ago, I would have never guessed or even desired that I'd be working full time with children. I was headed off in a very different direction when circumstances beyond my control changed all my plans. And He changed my heart. Although I can see God's very specific leading and am confident I am in the place He's put me, I often feel very inadequate. Full time ministry with such a huge spiritual responsibility to both children and adults?! But guess what? God is fully adequate and the skills, talents, strengths and weaknesses that He created in me have been developing though many different experiences, and are being used for His glory."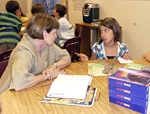 Deanna's goal for Children's Ministry at Trinity is that everything we do is God-centered, coming straight from God's Word. We know that the true power to speak to the heart, to change the heart, is only found in God's Word, not our own opinions and philosophies. In so many of the curriculums we looked at, we felt like they were catering to the kids and trying to convince the kids to follow God for what they could get from Him.
We wanted the kids to develop a hunger and thirst for God's righteousness and seek to follow Him because of who He is. About one month after starting this position, we found DiscipleLand curriculum at the Children's Pastor's Conference and their goals supported our goals. We've been using it now for one full year and have been very happy with it, the feedback from teachers has been very positive and the kids are soaking up God's Word in their Sunday school classes. We have used both the Core and the Adventure curriculums in our 2 services of Sunday School ages Preschool through sixth grade.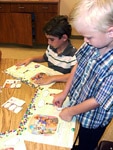 This summer almost every class first grade through sixth grade both hours used the Adventure curriculum called "Jesus Shown Around the World." Each week the classes watched parts of "The Story of Jesus for Children" film which showed parts of Jesus' earthly life and death and then read about them in God's Word, discussed what it meant to them and then probed what it meant to different people groups from all over the globe. At the end of the summer, we all came together for a family night to watch the film together and we encouraged the children to invite other families or children to come learn about Jesus.