Church Spotlight 6
Faith Community Church in Santa Clarita, California
Faith Community Church, an Evangelical Free church, has both Sunday school and midweek programs, as well as a home group ministry. They minister to about 100 children each week. Carol Gutman is the Sunday school coordinator and has four children herself in the programs.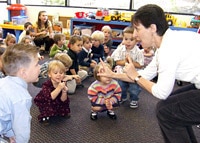 DiscipleLand (DL): Tell us a little about yourself.
Carol Gutman (CG): My husband and I have officially been in charge of Sunday school for about nine months. Before that we taught Sunday school, helped in our Children's Worship program, and did lots of other things related to kids. One of the best things about our church is that there are so many ways to be involved with kids!
DL: How did your church find DiscipleLand?
CG: About four years ago we formed a committee to evaluate the curriculum we were using and to investigate purchasing a new one. We looked at many different publishers, and they all looked basically the same as the one we were unhappy with. After we had already been in the process for several weeks, one of our committee members heard about DiscipleLand and we ordered some samples to evaluate.
DL: Why did your church choose DiscipleLand?
CG
: We wanted something that taught the kids more of the Bible than they were learning at the time. We wanted a curriculum that put a high priority on Scripture. We wanted a curriculum that would help challenge the kids who felt they already knew everything. We wanted something that was attractive and fun to look at. We wanted something teacher friendly. But most of all we wanted a tool that would help us to get to our students' hearts, to really challenge them to make this faith their own. DiscipleLand does all of those things so much more consistently than the others we evaluated.
DL: How would you say your ministry is affecting the students and teachers? How are they responding?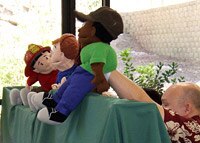 CG: My own children love DiscipleLand, especially being able to visit DiscipleZone.com each week. My older two are in the same class, so they do the extra activities together and help each other learn the week's Bible verse. It has been great to see them grow.
My younger two are in the preschool department, and we have enjoyed hearing what they learn about the more unfamiliar Old Testament stories. My two year old knows who Joash is!!!
Teachers have said how easy it is to prepare and teach this curriculum. We especially appreciate the great improvements in the revision!
DL: What are some creative ways you are reaching your kids?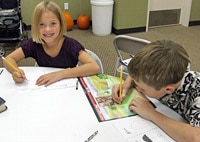 CG: We have a group worship time during our second service for our preschoolers. We sing, pray, review the day's story, and watch the puppet show. Our teachers do many creative things with the kids, such as having Sunday school in a tent, coming dressed in costume, bringing fun props, or hosting a Jonah party.
DL: Is there anything else you'd like to tell us?
CG: We have had a pretty big turnover in our teaching staff and leadership over the last year or two. This left us in kind of a ministry plateau for a while. So we were so blessed to have Dick Crider come last fall to challenge and encourage our teachers and parents in their discipling role. We currently have a really great, enthusiastic teaching team assembled in our classes. We are excited to see how God will use all of us and DiscipleLand in the months to come.