Church Spotlight 2
Bloomingdale Alliance Church in Bloomingdale, Georgia
Sharon Govero, the Disciplemaking Ministries Coordinator for Bloomingdale Alliance Church in Bloomingdale, GA, writes about implementing DiscipleLand for both weekend and midweek ministries: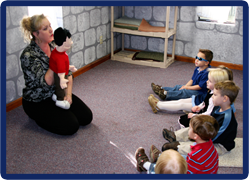 The purpose of the Disciplemaking Ministries of Bloomingdale Alliance Church has always been to promote a quality, well-rounded educational program that ministers to the spiritual needs of all individuals at every age level. So in 2003, the Disciplemaking Ministries Committee wanted to "raise the bar" of learning within the children's educational ministries of our church. Our quest began to find a well-rounded curriculum that met [our] twelve spiritual growth issues and that also included Missions Education. For our church, this is an important part of who we are, a part of the Christian and Missionary Alliance.
Over a three year period, [our] committee looked at several publishers and sponsored a "Making Healthy Disciples" seminar with Marv Parker, the Church Health Director of the Christian and Missionary Alliance in the South Atlanta District. Mr. Parker stated in his seminar booklet, "Making Healthy Disciples 1":
"While there are a number of good curriculums to choose from, we have found that DiscipleLand is one of the most disciplemaking-focused curriculums available today. Since DiscipleLand avoids repetition of Bible stories and covers the full scope and sequence of Scripture along with addressing important topics like personal devotions, missions, the authority of Scripture, etc., some refer to DiscipleLand as a discipling system."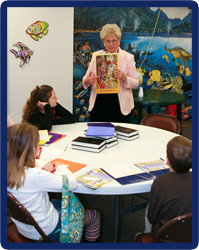 Excited about this possibility, [we asked] Mr. Parker to put us in touch with Dick Crider, a DiscipleLand Consultant. Mr. Crider helped to introduce DiscipleLand to our Wednesday night children's classes, KIDS Zone Plus, in the fall of 2006. After evaluating this program for nine months, it was concluded that this was not only the curriculum we had been looking for over the previous four years, but that we should go church-wide with DiscipleLand to include Sunday school, Wednesday night KIDS Zone plus, and Children's Church.
DiscipleLand has enough material in each lesson that it was possible to split lessons and enhance each with downloadable online materials for Levels One through Four-and we are excited about the coming revisions for Levels Five and Six. On Sundays during Sunday school, the teacher's lesson consists of reading the WorldWatch Missionary Biography, Memory Verse work, Spark Interest and Explore Scripture sections, working only with the [Disciple Guide] pages that go along with these lesson sections. On Wednesday nights, our teachers work in-depth with the WorldWatch Missionary Biography, using the downloadable Missionary Biography questions from the DiscipleLand website. Teachers then review the lesson from Sunday school, finishing out the lessons with Inspire Action and correlating [Disciple Guide] pages and activities that emphasize the lesson theme. Since the student pages are nested for Levels One through Four, on Wednesdays the kids can take home their pages for the DiscipleZone sections. For Children's Church, ages 3-5 years old, the Preschool DiscipleLand puppets and scripts that go along with the week's lesson are used along with correlating activities.
The pros for using DiscipleLand in this way are:
Parent letters are given each quarter for students in every level, updating parents on what their kids will be learning.
The same materials are used throughout [our] children's Christian education system, which has been not only cost effective but learning effective for the children.
Lisa Hiatt, co-teacher on Wednesday nights KIDS Zone Plus, was asked "Do you find that your students are learning better having the same materials on Sundays and Wednesdays?" Mrs. Hiatt answered, "Absolutely, it's reinstated twice-and [students] seem to absorb more of what's being taught."
There is one theme being taught each week, everyone uses the same Scope and Sequence instead of differing ones from different publishers. We have found that each publisher has a different learning system and with [our ministry] using one publisher's material, there is a unified effort where everyone is working together.
The same lessons with only one memory verse are taught each week. Brenda Nelson, our Wednesday night Level Five teacher comments: "...it helps to go over memory verses two times instead of having two different ones which they don't remember and it reinforces the lessons and we don't feel like we are trying to cram it all in one lesson."
We don't overload the children, however, because the material is more challenging, it does "raise the bar" of learning, which is wonderful. We have children who are very smart and get bored very easily. Kids are being taught needed discipleship skills and biblical lessons that are relevant to their everyday lives.
As Level Six Sunday school teacher Ron Govero said, "I find the 6th grade curriculum challenging for both the teacher and the student. This is a good thing because our students needed to step it up a notch at the 6th grade level."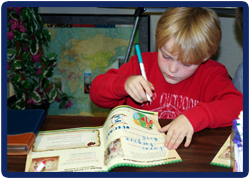 However, as with anything there have been a few challenges:
The material takes a little more preparation. You cannot study the lesson on the evening before and be effective.
The teachers also had to rethink their own scope of thinking. Becoming unified in our efforts sounds easy, but because the teachers have been doing their own individual lessons for so long, becoming a "team member" takes thought and time.
Other challenges have been coordinating the Sunday school and Wednesday night lessons, activities, and adjusting learning levels to meet the students' capabilities.
Having different students come on Sundays and Wednesday nights challenges the teacher to make sure his or her class comes away inspired to use what they've learned in their everyday lives.
These challenges are so exciting, because with every challenge we expand our level or learning for students and teachers alike.
[Adopting DiscipleLand] is a positive change that has unified the teaching efforts for everyone involved in [our] children's Christian education. Using the DiscipleLand curriculum [in all our educational settings] has made it easier for the teachers to prepare, allowing them to concentrate on specific areas instead of rushing through the lessons trying to "get it all in" in one great swoop. Every Christian worker, whether lay or professional, shares a common goal, which is to make healthy disciples at every age level. DiscipleLand is helping us with great resources and support for the children's ministries here at Bloomingdale Alliance Church. [Discipleland helps] us to reach another common goal-to be good stewards with what the Lord has given us. This compels us to do the very best we can! DiscipleLand, as Marv Parker has said, is one of the most disciplemaking-focused curriculums we have found available today.