Church Spotlight 12
Woodland Park Baptist Church in Chattanooga, Tennessee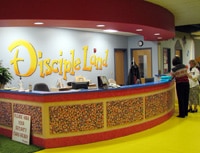 Woodland Park is a Southern Baptist Church in Chattanooga, Tennessee. More than 400 kids attend their preschool and elementary ministries. Patrick Newbill is the Children's Pastor.
DL: Tell us about yourself.
Patrick: I became a Children's Pastor while at Southeastern Seminary in 2002. Fortunately Richland Creek Community Church was a small church when I started and they gave me lots of room to "learn/grow" and make some "doozy" mistakes!
DL: How were you introduced to DiscipleLand?
Patrick: While I was at Richland Creek, a fellow seminary student told me that his professor thought this new curriculum was the best he'd ever seen. My Sunday school teachers where not big fans of [the curriculum we'd been using] and while the Education Pastor wasn't paying attention ... boom, I switched over and became an instant celebrity with the teachers. It was like putting cash in their personal accounts.
DL: Why did Woodland Park choose DiscipleLand?
Patrick: I am now at my second church. Woodland Park is an inductive/expository type church and I'm thrilled. I believe, however, that kids need a firm foundation and understanding of the Bible as a whole before setting anchor in a book for a year or two. We switched to DiscipleLand because of the scope and sequence (level 6 gets into inductive Bible study).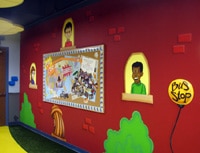 DL: How is DiscipleLand affecting the students? How are they responding?
Patrick: The kids love coming to Sunday school. There is more than enough engaging material in a single week's lesson. Therefore if the teacher realizes they are losing the kids attention...they can punt and re-engage the kids. I love having adult classes come and ask us to "turn it down".
DL: How is DiscipleLand affecting the teachers? What are some of their comments?
Patrick: We went from teachers having to put tons of time into a lesson and try their best to be creative...to a new way of life. We started by offering training treks. There are currently three treks and we hope to top out at four. First year teachers start out in trek 1, etc. We make it fun and inviting. We've had so many new faces enter children's ministry because they heard about the training treks.
Some teachers who are accustomed to a "box" have trouble with DiscipleLand for about six weeks. I tell them upfront, however, that they cannot cover everything in a lesson in a single week. They must pick and choose what they will cover. "Box" teachers want to cover it all. DiscipleLand gives teachers "freedom" to cover as much or as little as they like in a single week. Once teachers grasp this, they love DiscipleLand.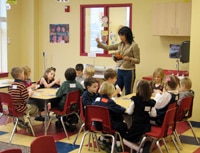 My 3rd grade teacher is currently five weeks behind everyone else because she can turn one week into 1-3 amazing lessons. She has been teaching this level for two years...therefore this year is much easier for her as far as "prep" time goes. This is a big bonus and a recruiting aid for keeping teachers year after year.
DL: Anything else you'd like to add?
Patrick: I do my best to have teachers stick around for a few years. This is especially good with elementary DiscipleLand teachers. I strongly encourage them to make notes in their teacher books so that they (or someone a few years from now) will remember what worked and what fizzled. They also write down additional ideas in the teacher book such as adding dramatization by showing a Visual Bible.
Also, several of our preschool classes go through the teaching pictures each week and have the kids tell the story up to the current day's story. It's amazing seeing three-year olds remember 12 weeks of lessons.