Church Spotlight 10
Rocky Bayou Baptist Church in Niceville, FL
Rocky Bayou is a Southern Baptist church ministering to more than 100 kids every week. The Children's Ministry Team consists of Pastor Carey Dean, Pam Bristol, and Shirley Olimb.
DiscipleLand (DL): How did Rocky Bayou find DiscipleLand?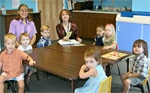 Rocky Bayou (RB): Our Children's Department was in search of curriculum that taught the Word chronologically at an early age and delivered continuity a year at a time for elementary children. DiscipleLand met the criteria plus it ministered to the teacher with encouraging devotionals and challenging text.
DL: How is your ministry affecting your kids?
RB: We use DiscipleLand during our Sunday school hour and this coming year we will use the extended session material during our Junior Church service. The children thoroughly enjoy the material. The presentation of the Word is solid and the activities are challenging and relevant. While this was our first year to use DiscipleLand, we know the children have received excellent instruction in the Word and [they] look forward to beginning a new year of adventure.
DL: How have your teachers responded?
RB: The best testimony is the fact that all our teaching positions were filled five weeks before promotion Sunday. Those who had taught this first year using DiscipleLand were excited, and their testimony encouraged others to step up and get involved.
Across the board, our teachers have commented on the thorough God centeredness of [DiscipleLand's] material. One teacher commented, "You don't have a story you have to fit God into, the story is all God, and the Dee, Cy, Paul characters represent real life situations where you see that God is the center and Sovereign in all things."
DL: What else can you tell us?
RB: [This year we began] our first full year in DiscipleLand, and the teachers are busy transforming rooms into Bible times, Old Testament lands, and New Testament adventures-rooms where detectives will embark on a year long journey of discovering God's gifts to us, His Son, and His Word. [We also have] many other classrooms with centers where the children can discover the Truth with hands on experiences.
Throughout the buildings we hear how much [the teachers] appreciate the extras that DiscipleLand offers through downloads and personal in the Word challenges. And don't forget the clipart-we have some beautiful displays using the downloadable clipart. The material challenges the teachers and provides a solid foundation for God to lead them to discovery of the Truth long before they stand in front of the children-a rich resource for today's Bible teachers.
Thank you, DiscipleLand, for producing material that is true to its motto:
"Building Lifelong Disciples." For that is what it does across the board, first by equipping the teacher who then passes the baton to the student.